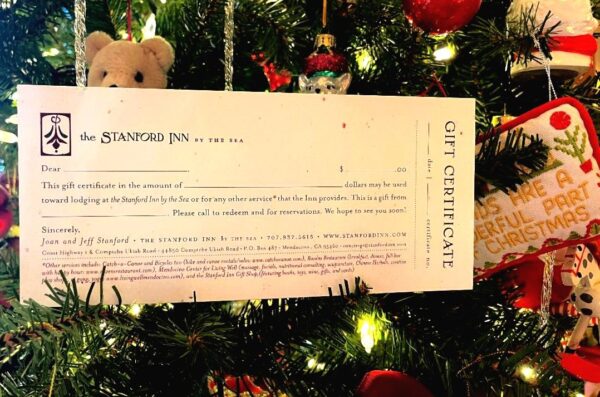 The Stanford Inn is the kind of place we would all build if we were as singled-minded, as energetic, as creative as the Stanford family. The Inn is wonderful!!" – National Geographic Traveler
"The Stanford Inn tops list of Best Dog-Friendly Vacations." – Sunset Magazine
GIVE THE ONES YOU LOVE THE GIFT OF HEALTH! The Stanford Inn & Resort Gift Certificates can be used in a multitude of ways.
Please call us (707) 937-5615 to order Gift Certificates. The certificates can be used towards the following:
A complete getaway…
Vibrant Family Getaway
Vegan Cooking Retreat
Immune System Boost Getaway
Creative Journey Vacation
Mother & Daughter Hiking Vacation…and more
Or any or all of our services…
Lodging
Dining
Canoeing
Wellness Classes (cooking, nutrition, creative play shops and more!)
Acupuncture*
Massage/Facials*
Our gift shop/bookstore!
Wishing you a great holiday season and hope to see you soon!
Joan and Jeff
*Subject to availability/Covid restrictions