The Stanford Inn … A Destination Resort on the Rugged Mendocino Coast
IMPORTANT NOTICE! The health and safety of our guests, staff, and family are our top priority. We have temporarily suspended operation of the Inn & Resort, including Ravens Restaurant, Wellness Center, Massage in the Forest, and Catch A Canoe & Bicycles too! We continue to farm, providing produce for staff and the Mendocino Coast's Food Bank.
We are taking reservations for stays after the Shelter in Place Order is projected to be lifted. As the order has been extended several times, and correctly so, we are not taking new reservations for the period before June 1, 2020.
For essential workers who may stay with us, be assured that we adhere to the highest standards of cleanliness and hospitality. It is our unwavering focus to provide a safe and healthy environment.
A note regarding the property: We discovered long ago that this property is both physically and psychologically healing. It is our ongoing desire to share it, providing guests with invigorating and inspiring experiences. Now with Covid-19 threatening the health of our nation, our work is even more important.
We encourage you to contact us by phone or email if you have questions about our inn and anything related to staying with us. – Joan and Jeff Stanford
On a Coastal hillside, the Stanford Inn & Resort overlooks Mendocino Bay and the resort's historic farm. A haven, The Stanford Inn & Resort offers exquisite opportunities to reconnect with one another, nature, your creativity and joyfulness.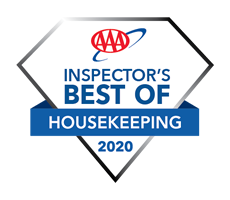 The resort's lobby is spacious and welcoming. Guest rooms and suites of this boutique hotel in Mendocino are paneled in pine and redwood. Every detail is attended to, from wood-burning fireplaces set and ready to light, to the sumptuous chef-prepared organic breakfasts included with your stay.
Inspired by their on-site certified organic gardens, the resort's Ravens Restaurant was featured in Oprah Magazine, and is nationally acclaimed for gourmet plant-based cuisine. Ravens Restaurant is the essential dining experience on the Mendocino Coast. The cuisine served in the restaurant, the composting and recycling program, the cleaning supplies, and bio-diesel fueled trucks, make Mendocino's Stanford Inn & Resort North America's only truly sustainable destination.
The resort specializes in romantic getaways, is pet-friendly, family-friendly, and is especially popular for Northern California Coast weddings and elopements. The resort's Massage in the Forest and wellness center provide a variety of life-enhancing experiences. Unlike anywhere in the world, the resort's 'pedaling and paddling' experiences are incredible – guests are often seen relaxingly paddling up Big River on a super-stable redwood outrigger canoe!
"This is the kind of place we would all build if we were as singled-minded, as energetic, as creative as the Stanford family. The Inn is wonderful!!"
– National Geographic Traveler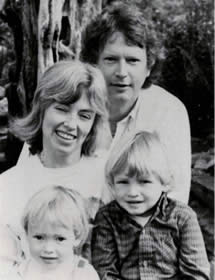 MEET JOAN & JEFF STANFORD
(photo circa 1986)
Moving here in 1980, we were changed by the creative and healing energies of the land which is situated between the vast Pacific Ocean and the vibrant Big River. Since then, we have worked to assure our guests have an opportunity to experience what we experience: a special place that enlivens and inspires. The energies we experience here nurture us and we reciprocate by nurturing not only our guests, but the people who work here, the farm and gardens and the Mendocino community.
We approach the inn as if it were a small family farm. We treat our guests as we do our family. We provide outstanding equipment at Catch A Canoe & Bicycles, too!; the finest massage therapists on the Mendocino Coast led by Leslee Huber; comprehensive strategies for joyful living at our Mendocino Center for Living Well led by Sid Garza-Hillman; and one of North America's most acclaimed vegan restaurants, The Ravens. The Inn manifests our commitment to live mindfully so that all might live well.
We look forward to sharing with you the energy and magic of Stanford Inn by the Sea and the awe-inspiring Mendocino Coast!
"Joan and Jeff Stanford have created the ultimate escape, an inn so peaceful and all-encompassing that there's little reason to move from the premises all weekend."
– Sacramento Magazine