Massage
The healing power of touch is unmistakable. Elephants caress fellow elephants if they are injured or ill. They caress each other at times of loss. Health benefits of touch include relieving muscular aches and tension, improving circulation and generating a feeling of well being. Massage is truly educated touching.
Massage helps to improve range of motion and circulation of both circulatory and lymphatic systems, strengthening the immune system. It helps shorten recovery from illnesses and injury. At a cosmetic level, massage can reduce the appearance of cellulite and improve the skin's elasticity. Psychologically, massage reduces stress, providing a calmness from which to focus on other aspects of life. Massage is not just about healing or reducing stress, it just feels good!
Please call our concierge desk at (707) 937-5615 for booking/scheduling! (Appointments are necessary, 24 hours cancellation notice required to avoid charging)
Forest Basic Massage – Based on the long strokes and gentle kneading of Swedish massage, our therapists provide an intuitive massage incorporating techniques such as acupressure and shiatsu to improve muscle tone, stimulate the lymphatic and circulatory systems, and relax the body.
Standard session – $130 | 90 minutes – $180
Deep Tissue Massage – A technique focused on connective tissue in order to restore structural alignment and balance by removing chronic tensions that are often created over time by injury, and by habitual and/or emotional stress. Our therapists work sensitively with you to release tension for a deeply relaxing and healing treatment.
Standard session (50 minutes) – $160 | 90 minutes – $230
Pre-natal Massage – A very gentle forest massage tailored to your pregnancy and yourself, using pillows for additional support.
Standard session (50 minutes) – $130
Hot Stone Massage – Heated and cooled polished stones are used to help stimulate the circulatory systems and enhance the feeling of relaxation. Hot rocks offers the benefits of standard massage plus the warmth of stones. Perfect for foggy or rainy coastal days.
Standard Session (90 minutes) – $225.
Botanical Aromatherapy Massage – Indulge your senses with this massage. We use the highest quality therapeutic grade aromatherapy oils custom blended to meet your needs. Aromatherapy massage promotes a healthy equilibrium between mind, body mind spirit.
Standard Session (50 minutes) – $155.
Aromatherapy Wrap – After dry brush exfoliation we apply a choice of custom blended essential oils and plant extracts followed by a soothing wrap in heated blankets. While your body absorbs the oil, your scalp, face and feet are massaged.
Standard Session (50 minutes) – $160.
Sea Salt Scrub with Massage – Mineralized sea salts infused with aromatherapy oils are used to exfoliate the body followed by a nourishing warm shea butter massage. Your body is left glowing recharged.
90 minute – $250
Reiki – (fully clothed experience – great for guests uncomfortable with massage!)
Energy healing modalities, like Reiki touch, are woven through this blissful healing session. The client is able to fully relax while the practitioner uses light touch to work at the energetic level of the client. Energy can stagnate in the body where there has been physical injury or even emotional pain. In time, these energy blocks can cause illness. Energy medicine aims to help the flow of energy and remove blocks in a similar way to acupressure/acupuncture. Improving the flow of energy around the body can enable relaxation, relieve pain, enhances a sense of well-being, and reduce anxiety and depression.
Standard session (50 minutes) – $130
Ayurvedic Treatments
Ayurveda is a healing system derived from an ancient Indian tradition that uses diet, herbs, exercise, and body therapies. The goal of traditional treatments is to restore balance and establish calm and harmony and the treatments are understood to cleanse and purify mind, body and soul.
Please call our concierge desk at (707) 937-5615 for booking/scheduling! (Appointments are necessary, 24 hours cancellation notice required to avoid charging)
Abyanga Massage – This unique rhythmic massage is traditionally done performed with nourishing warm herbal oils. Tailored to your constitution our therapists work to improve circulation of both prana and lymph, and to rejuvenate the tissues. This gentle massage encourages the penetration of oil deep into the body promoting greater flexibility. It is deeply relaxing and nourishing.
50 minutes – $180 | 90 minutes – $250
Shirodara – Best experienced after and Abhyanga massage, Shirodara is a simple, yet blissful ayurvedic treatment. A very gentle warm stream of herbal oil is poured on the third eye of the forehead. Stimulation here affects the pineal and pituitary gland, inducing deep relaxation, synchronization of brain activity and balance between the mind, body and spirit.
30 minutes $140.
Ayurvedic Ecstasy – The ultimate ayurvedic body rejuvenation: relaxing warm oil Abhyanga followed by a blissful Shirodara treatment.
90 minutes – $290.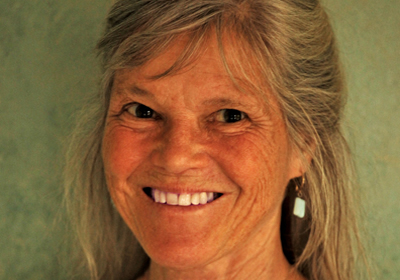 Robin Reid
Emeritus Director of Massage in the Forest
Robin has been practicing massage at the Stanford Inn for the past nine years. She received her training as a massage therapist fifteen years ago from the Phillips School of Massage in Nevada City, and later in Ayurvedic Massage from the California College of Ayurveda. Robin specializes in Ayurvedic massage but with a Swedish massage approach, emphasizing a relaxing, pressure point-focused massage.
"Glorious Mendocino Bay views and in-room fireplaces don't cost extra at this laid-back inn, which feature a heated pool and wellness center where guests can sign up for yoga classes and massages."
– Country Living