With the practice of yoga and taijiquan – tai chi – you'll notice positive, profound physiological and psychological shifts, leading to stress reduction, weight management, increased flexibility, increased endurance, improved circulation and metabolic function, increased energy, hormonal regulation and so much more.
Stanford Inn's Instructors inspire and nurture their students in a safe, fun, non-competitive environment. We are dedicated to offering guidance and support to nurture your individual relationship to the practice of yoga. We believe that through the practice of yoga, you may learn to joyfully experience your body and develop a relationship that allows you to listen and learn from it. Listening to your body is an essential aspect of mindfulness we teach at the Mendocino Center for Living Well.
CLASS FEES
Classes are $15/person (drop-in basis).
Private classes are also available: 1-hour, $80/person, $100/couple. (Appointments are necessary, 24 hours cancellation notice required to avoid charging)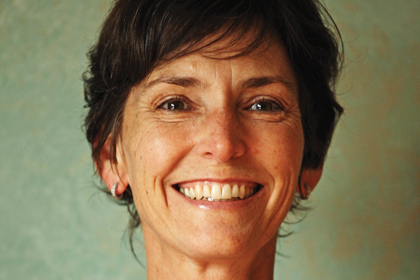 Catherine McMillan
Director of Yoga
Catherine and are team of instructors offer Yoga for every level of fitness and yoga experience – from yoga for absolute beginners to seniors and people with physical limitations and special needs.
A coastal resident since 1972 and second generation yogini, Catherine McMillan shares the many joys and benefits of yoga through a flowing practice combining breath, movement and reflection. Catherine is an E-RYT 500 yoga instructor, and received her training through the Yoga Research and Education Center.
Catherine and other MCLW yoga instructors offer yoga for all levels and experience.

"A beautifully designed resort with its natural surroundings as their landscape. They're pet friendly and have vegan treats for your pets every day you're there. The food (vegan) they serve at their restaurant is from the gardens on the property. No meat, dairy or fowl is served and their daily menus are full of delicious selections from what's harvested. Breakfasts and afternoon tea and desserts are included daily with your stay! They offer yoga, meditation, facials, a full service pool and Jacuzzi, with many other relaxing activities. And I could spend days reading their fantastic selections in the book store gift shop! I give this place 5 stars!"
– Cynthia A Carrillo, Facebook