Happy February
Let's face it – there is an environmental cost to any and all travel, but we believe it is imperative we all look for ways to minimize that cost.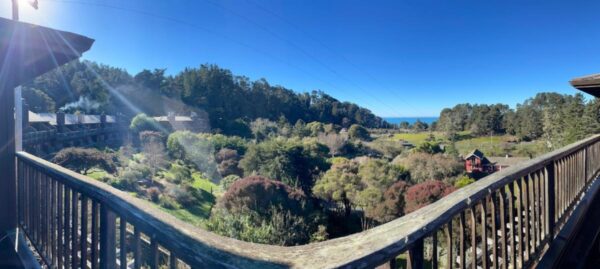 We've written about the impact of plant based diets to lighten our environmental – carbon – footprints. Steak's carbon footprint is enormous. For many, changing their diet is a "no go". However, there are smaller changes that we can embrace – such as adopting grass-based toilet paper (more below); sugarcane based papers for printing, copying, and packaging; and, gardening/landscaping in the context of climate and location rather than creating a mini Kentucky horse pasture for a lawn.
At the Inn we have adopted fabrics for robes, sheets, quilts that require less water for washing and are quicker drying. We compost most all organic waste and recycle to the fullest extent possible. And, of course, the most sustainable action that any human being can take is to change their diet to plant-based. Our guests and staff, when they eat with us, substantively reduce their carbon footprint.
We hope you have joined us in working to lighten our footprint not only traveling, but living.
Joan and Jeff
No act is too small
We know any talk of bathroom tissue can be a touchy subject, but wanted to wipe the slate clean and talk about it for just a moment—we are always in the "what is the best, most sustainable option" mindset and that means right down to the facial and bathroom tissue we choose for the resort. What we found is that bamboo makes for the best, sturdiest, and least "shred-able" option, and we've had no complaints (for the record, we have never asked for feedback in this particular area of our guests' experience)! Wanted to let you know that we want to lighten the touch wherever and whenever possible…