2021 Artists' Workshop
Finding Your Creative Spark!
(2021 dates not yet determined)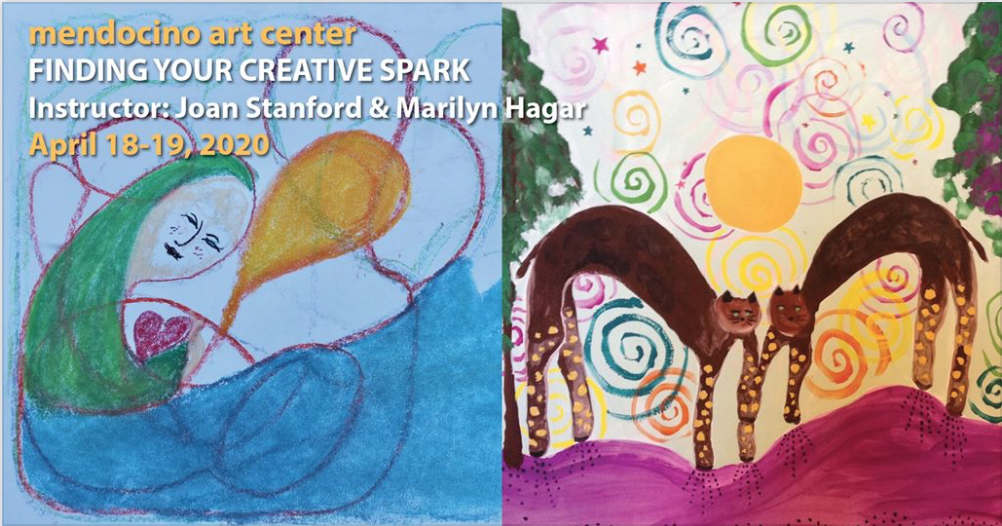 "It took me four years to paint like Raphael but a lifetime to paint like a child."
– Pablo Picasso
Do you remember what it was like to create as a child? No judgement, no pressure, no critiques, just for the joy of it. The good news is that that wild child still lives inside of us and has just been waiting to come out and play once again. In this workshop we will open communication with our creative essence, fling open the doors to the images that are alive inside of us, feed the fire of our imaginations, and discover our ability to express something meaningful about our lives through the arts. We are all artists. It comes with being human, but in a culture that teaches art as achievement rather than personal expression, we may have turned to those we think of as artists to make art for us thus separating from a vital part of ourselves.
In a safe, supportive environment, we will invite playful exploration, follow our intuition, and let our images speak. Absolutely no experience is necessary, just a willingness to be open to the idea that the gift of creative expression belongs to all of us.
JOAN STANFORD is the author of The Art of Play: Ignite Your Imagination to Unlock Insight, Healing, and Joy. She is a board-certified art therapist and full-time innkeeper who has been facilitating creativity groups for over 20 years encouraging people of all ages, especially non-artists, to expand their awareness through playing with art materials. She has been recognized with the Soroptimist "Making a Difference For Women" award for an art-based curriculum she co-created and taught in local schools. Her poems have been published and her art exhibited. She lives in Mendocino with her husband and offers imagination playshops and creativity retreats at their inn and wellness center. She welcomed her first grandchild last year.
MARILYN HAGAR is the author of Finding the Wild Inside: Exploring our Inner Landscape Through the Arts, Dreams and Intuition. She a registered expressive arts therapist who owns and operates For the Joy Of It!, a creative retreat in Mendocino, California. She has been in private practice and led groups and workshops at her forest retreat for more than 40 years and has dedicated her life to the belief that we are all creative and that expressing ourselves through the arts puts us in touch with our own wild essence. Marilyn has published articles about her creative life and her adventures in the great outdoors. She has also exhibited her artwork and her art quilts, inspired by inner-life imagery and her dream world. She has three wonderful sons and four precious grandsons.
"As an adult in my forties I rediscovered my creative spirit, that spirit that infuses every child's world. That rich imaginal space that children naturally visit does not disappear but rather lies untapped, an amazing resource. Many of us turn to journal writing when troubled to listen to that still voice within. We may have had a diary when young that was a safe place for our thoughts. We know feeling safe allows us to open up and my intention is to create that safety, to offer complete permission for exploration without judgment. I trust our inner knowing and offer avenues to allow that wisdom to be expressed through the expressive arts. Having a playful approach is key. Plus play is simply fun and a proven path to stimulating creativity."
– Joan Stanford