Covid-19 Safe Practices & Policies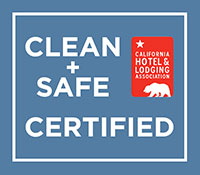 Welcome to Stanford Inn & Resort! Please help us help you. We appreciate that you have chosen our Inn for your getaway and want it to be a joyous and worry-free vacation.
A condition of reopening is to assure that we are eliciting the cooperation of visitors to maintain the health of the community and to keep the Delta variant of COVID-19 from spreading in Mendocino County. While our COVID policy is to protect children who are unable to be vaccinated due to age and those who are unable to be vaccinated due to an immunological condition, please note:
Masks are optional for our guests and fully vaccinated/boosted staff. Please travel with proof of vaccination.
If you are not fully vaccinated, we do recommend a face mask for your protection.
Please remember to wash or sanitize your hands especially when handling frequently touched surfaces.
Importantly, stay home if you feel sick, have flu-like symptoms such as cough, fever, or trouble breathing and take an antigen test (available over the counter) or, best, a PCR test available at most pharmacies. Prepayments will be available to use for another stay, if you have to cancel.
Thank you and our best wishes for your health wherever you are.
~ Joan & Jeff Stanford
PROPERTY PRACTICES
Each of our employees has received training in extensive cleaning procedures, to include the frequent sanitizing of all common touch areas such as counters, doors, floors, lamps, light switches, tables, chairs, and couches, for example.
We practice frequent cleaning of all common touch surfaces.
Each of our employees wears a mask and, where needed, gloves.
At all times, we practice social distancing, maintaining a minimum of 6-feet distance from all others. We encourage greater distance indoors and insist on wearing masks, except when dining.
During check in you will receive sanitized room key cards and any special instructions to maximize your comfort and safety during your stay with us. Check-in will be by email, and information normally provided at check-in will be provided in an email with check-in instructions and will be available to guests on "guest pages" on our web site.
Check-out is by express check-out.
To provide "touchless service" we ask for your acceptance of our policies for checking-in. These are simple. With your acknowledgement, we will use the credit card with which you reserved a room as the method of payment for rooms, food and all other service and products purchased here. And we will provide express check-out.
GUEST ROOM PRACTICES
Each of our rooms are thoroughly cleaned and sanitized prior to guest arrival. All surfaces, furniture, linens and amenities are sanitized.
Once your room is cleaned and prepared for you, no one enters the room prior to your arrival.
You will be given a set of masks, antibacterial hand sanitizer and disposable gloves, if needed.
We will not enter your room during your stay. You can call requesting amenities, breakfast, etc., and we will deliver to your room. High Speed WiFi is complementary for guests.
FOOD SERVICES
Each room is equipped with a microwave, coffees, a coffee maker, teas and drinking cups.
We provide a complimentary cooked-to-order breakfast each morning as part of your stay. Because of vaccinations, we are able to serve breakfast indoors in our dining room. As children under 4 and under cannot be vaccinated and are often asymptomatic if they have COVID19, we ask all eligible adults and children 5 and over to be vaccinated for their protection. We have outdoor seating at the deck bar for those who prefer the out-of-doors. We can provide breakfast service to your room in to-go containers (they help maintain temperatures better than plates and plate covers). To avoid issues with cash and contact, your acceptance of our policies includes accepting that we charge your credit card with a 20% service charge for the value of your complimentary breakfasts delivered to your room. This amount will be given to your server for distribution to serving staff. To protect you, our cooks and servers must wear masks, gloves, and other protective equipment.
Daily menus will be available on-line, ordering will be by phone.
We are open for dinner indoors, beginning at 5:30 PM. Because of reduced capacity, reservations are required. For dining indoors, we prioritize overnight guests in our accommodations to help assure airy dining rooms.
GUEST POLICIES
If before your trip to Mendocino you find you are feeling unwell, we request that you notify us by phone so that we can reschedule your stay with us.
If, while you are at the inn, you become unwell, we request that you notify us and make arrangements to be tested. We strongly suggest you seek help at Mendocino Coast District Hospital.
The following are Covid-19 Prevention and Hygiene Protocols specific to the Stanford Inn by the Sea – Resort. These are further mitigations for this specific property beyond requirements and protocols by the CDC, California State and Mendocino County Protocols.
General
Indication of Illness
Employees – Are required to self-assess before coming into work – and not coming if they have a cough or fever or live in a household where any of the residents exhibit or complain of such symptoms.
When employees do come to work, supervisors will take their temperature with a distance thermometer.
Guests – When reserving guests will be asked if they are vaccinated and will be reminded to travel with proof of vaccination. In all cases, we ask guests to self-assess before arriving at the Inn. If they assess themselves to be sick, changes of their reservation will be accepted without penalty.
Signage and Movement
General Signage – We are providing signage regarding social current requirements from the State or particular requirements for the Inn.
Hand sanitizing dispensers provided at all common entrances, including reception, entrance to the restaurant, workout facilities, Catch A Canoe & Bicycles, too, pool, etc.
Use of Common Facilities – Open to vaccinated and unnvaccinated, masked guests. In the pool please maintain social distance if you are unvaccinated. Our fitness facility is small and ask that only one person or social bubble use it at a time. Massage, acupuncture, classes are all by appointment.
Waiting – In situations where guests or staff wait for services or directions, we ask that you help provide space particular for those who are concerned regarding social distance.
Paths of travel for exterior corridors, outside pathways and stairways established throughout the property.
Doors to common areas – Unless weather dictates otherwise, lobby and other entrance doors for guests staff will be left open for easy movement.
Operations
Guest Relations will be facilitated by internet and smart phones; We provide high-speed WiFi and passwords will be provided with check-in procedures sent to guests before arriving. In this way, if there is no service for their smart phone, they will have service, even in the Inn's parking lot.)
Check-in will be by email and arriving guests will be handed sanitized keys which will be placed in envelopes, also sanitized.
Check-out – All Check-outs will be express checkouts.
Bell Person Service: Guests requesting assistance with luggage will be assisted by masked employees. We will have informed guests, that if they tip, to please call or tell the bell person the amount and we will add it to their folio.
Sanitizing Products and Procedures for Guests
Safety Amenities – We have available hand sanitizer, mask, and gloves. Just ask. Please carry a mask in the village should you be asked to wear one. Guests who are not vaccinated are required to wear a mask in indoor public space for their and other guests' children's protection. Vaccinated guests are asked to bring proof of vaccination in order not to have to wear a mask in indoor public spaces/
Information for Guests – There will be no Housekeeping services during a stay, unless requested. If requested, only one staff will enter the room and will follow the protocol established for room refreshing.
Guest rooms
See Specific Housekeeping Procedures there are significant changes to procedures.
General Information to be shared with guests regarding their accommodations
After checkout, rooms will be taken out of service for several hours at which time they will be opened, atomized with sanitizer, cleaned and sanitized (see Housekeeping Procedures).
After cleaning and restocking, the room will be sprayed with disinfectant and it is not to be entered except by reserved guests who will be occupying the room.
Note to guests that Rooms air handling systems are individual to each room.
General Housekeeping Procedures information that will be provided to guests on Guest Pages on website:
Each Housekeeper will have their own vacuum, caddy with cleaning and sanitizing supplies.
All bed coverings are to be removed, placed in laundry bags (that have been dried at high temperature). All towels are to be placed in laundry bags for towels only and taken to laundry. Clean sheet sets, will be wrapped and brought to the room and installed. Staff wear masks.
Housekeepers follow guides providing check-off boxes assuring high-touch items including television remote controls, toilets, door locks and levers, furniture/drawer pulls, water faucet handles, nightstands, hangers, laminated emergency signage, telephones, drapery wands, light switches, temperature control panels, alarm clocks, luggage racks, microwaves, Keurig maker and supplies refrigerators (inside and outside) etc. and flooring. Check-off materials will be room specific, because of rooms' individual natures, (laminated and reusable).
All bed linen and laundry are washed and dried at high temperature and in accordance with CDC guidelines.
After checked and sanitizing, rooms will not be entered by staff.
Pool –
Open fully June 15th, 2021. To assure your safety only one room or social bubble allowed in the hot tub at a time. For your protection, the Sauna remains closed.
Dining –
Breakfast for overnight guests is complimentary. The dining room is open, and we will seat those with young children at social distance from other tables whenever possible. For our guests, doorstep breakfast delivery is also available. Dishes will be prepared and immediately placed in compostable packaging, sealed and taken to guest's rooms.
Dinner service (at additional cost) will be available in the dining room from 5:30 PM. We offer a full bar. Please call Extension 285 for reservations. We offer outdoor seating and room service to all guests. We are able to offer alcohol and wine to diners over 21 to be delivered to you room.
Recreational Activities
Guided hikes/runs will be available to individual(s), groups who share a room/household to maintain the need for social distancing between the hike leader and the group, couple, individual.
Mountain Biking –Reservations are required. We recommend that those wishing to use or rent bikes bring their own helmets. Please wear a mask when picking up your bike if you are not fully vaccinated.
Canoeing – Demand is high and low tides restrict access to the Big River Estuary as heavy winter rains have not washed out the sand. Reservations required. Masks are required except for fully vaccinated guests. Paddlers will be launched one at a time, Only paddlers sharing a single canoe will be allowed on the dock at a time. Other paddlers will wait in the upper parking lot until staff is free to send them off. Specific details will be provided by phone, on our website, and/or signage.
Yoga, Spa, and Wellness classes/sessions – Available only to fully vaccinated guests with proof of vaccination. Please check with your concierge for times.
General Social Distancing and Hygiene Protocol
We follow CDC recommendation. Employees will be specifically trained in these procedures.