Covid-19 Safe Practices & Policies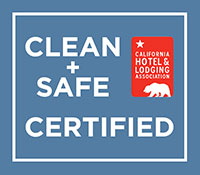 Welcome to Stanford Inn & Resort! Please help us help you. We appreciate that you have chosen our Inn for your getaway and want it to be a joyous and worry-free vacation.
A condition of reopening is to assure that we are eliciting the cooperation of visitors to maintain the health of the community and to keep the Delta variant of COVID-19 from spreading in Mendocino County. While our COVID policy is to protect children who are unable to be vaccinated due to age and those who are unable to be vaccinated due to an immunological condition, please note:
Masks are optional for our guests and fully vaccinated/boosted staff. Please travel with proof of vaccination.
If you are not fully vaccinated, we do recommend a face mask for your protection.
Please remember to wash or sanitize your hands especially when handling frequently touched surfaces.
Importantly, stay home if you feel sick, have flu-like symptoms such as cough, fever, or trouble breathing and take an antigen test (available over the counter) or, best, a PCR test available at most pharmacies. Prepayments will be available to use for another stay, if you have to cancel.
Thank you and our best wishes for your health wherever you are.
~ Joan & Jeff Stanford
PROPERTY PRACTICES
Each of our employees has received training in extensive cleaning procedures, to include the frequent sanitizing of all common touch areas such as counters, doors, floors, lamps, light switches, tables, chairs, and couches, for example.
We practice frequent cleaning of all common touch surfaces.
Each of our employees wears a mask and, where needed, gloves.
At all times, we practice social distancing, maintaining a minimum of 6-feet distance from all others. We encourage greater distance indoors and insist on wearing masks, except when dining.
During check in you will receive sanitized room key cards and any special instructions to maximize your comfort and safety during your stay with us. Check-in will be by email, and information normally provided at check-in will be provided in an email with check-in instructions and will be available to guests on "guest pages" on our web site.
Check-out is by express check-out.
To provide "touchless service" we ask for your acceptance of our policies for checking-in. These are simple. With your acknowledgement, we will use the credit card with which you reserved a room as the method of payment for rooms, food and all other service and products purchased here. And we will provide express check-out.
GUEST ROOM PRACTICES
Each of our rooms are thoroughly cleaned and sanitized prior to guest arrival. All surfaces, furniture, linens and amenities are sanitized.
Once your room is cleaned and prepared for you, no one enters the room prior to your arrival.
You will be given a set of masks, antibacterial hand sanitizer and disposable gloves, if needed.
We will not enter your room during your stay. You can call requesting amenities, breakfast, etc., and we will deliver to your room. High Speed WiFi is complementary for guests.
FOOD SERVICES
Each room is equipped with a microwave, coffees, a coffee maker, teas and drinking cups.
We provide a complimentary cooked-to-order breakfast each morning as part of your stay. Because of vaccinations, we are able to serve breakfast indoors in our dining room. As children under 4 and under cannot be vaccinated and are often asymptomatic if they have COVID19, we ask all eligible adults and children 5 and over to be vaccinated for their protection. We have outdoor seating at the deck bar for those who prefer the out-of-doors. We can provide breakfast service to your room in to-go containers (they help maintain temperatures better than plates and plate covers). To avoid issues with cash and contact, your acceptance of our policies includes accepting that we charge your credit card with a 20% service charge for the value of your complimentary breakfasts delivered to your room. This amount will be given to your server for distribution to serving staff. To protect you, our cooks and servers must wear masks, gloves, and other protective equipment.
Daily menus will be available on-line, ordering will be by phone.
We are open for dinner indoors, beginning at 5:30 PM. Because of reduced capacity, reservations are required. For dining indoors, we prioritize overnight guests in our accommodations to help assure airy dining rooms.
GUEST POLICIES
If before your trip to Mendocino you find you are feeling unwell, we request that you notify us by phone so that we can reschedule your stay with us.
If, while you are at the inn, you become unwell, we request that you notify us and make arrangements to be tested. We strongly suggest you seek help at Mendocino Coast District Hospital.